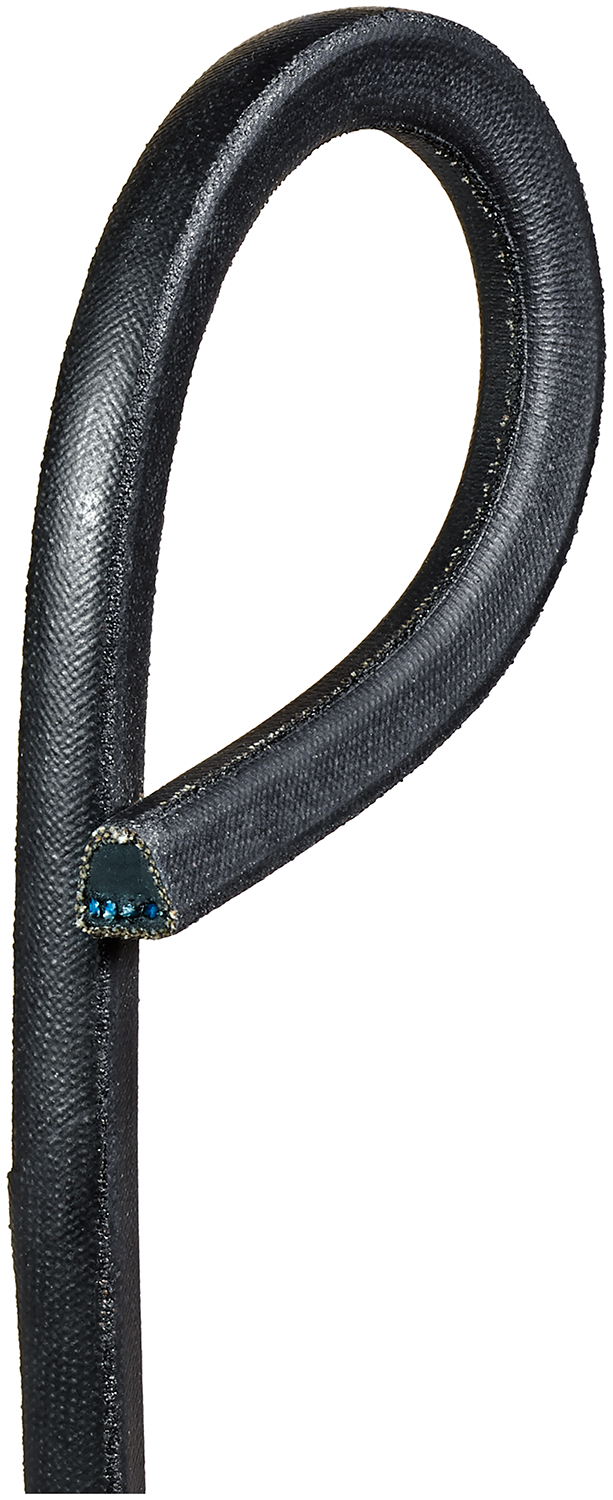 Super HC® V-Belts
The Gates Super HC® V-belt combines the strength of a wrapped belt construction with the economies of a narrow section V-belt. Pioneered and patented by Gates®, the wrapped, "narrow" belt cross-sections on our Super HC® V-Belts can transmit up to three times the horsepower of classical cross-sections (A, B, C, and D) in the same amount of drive space. Super HC® belts are suitable for virtually any industrial application, particularly those where space, weight and horsepower capacity are critical. Super HC® V-belts also have exclusive Gates construction features for longer life on your drives!
Meets RMA oil and heat resistant standards and static conductivity requirements
Up to 300% capacity increase over classical belts
Temperature Range: -22°F to 140°F (-30°C to 60°C)
Features
Small Space. Big Power.
Gates® Super HC™ combines the strength of wrapped belt construction with the ergonomics of a narrow section V-belt, allowing your Super HC™ V-belt to transmit more power in up to 50% reduced space, with a design that's significantly more compact than classical section V-belts. This means more power, less space, and less overall drive costs in your operations.
Features and Benefits
Flex-Bonded Cords are strongly forged to the belt body, resulting in equal load distribution, resistance to fatigue and shockloads, and the absorption of bending stress without cord deterioration
Arched top, concave sidewalls and rounded corners provide uniform tensile loading and uniform pulley sidewall contact for excellent belt service and reduced pulley wear
Notches molded into the belt during manufacturing increase flexibility, making this belt well suited for drives with smaller diameter sheaves
The Flex-Weave® Cover is constructed for longer cover life, providing extended protection to the core of the belt from oil, dirt, and heat
Gates Curves provide proper cord support and full contact with the sheave groove for uniform loading, uniform wear, and increased belt life
The vulcanised Flex-bonded tensile cords provide superior resistance to tensile and flexing forces, fatigue and shock loads
Belt Edge is machined for even sheave groove contact resulting in smoother running, less slip, and wear
The belt will not catch fire from heat buildup, even with severe slippage
The Flex-Weave oil and heat resistant cover protects the belt
Gates Super HC belts are available in 3V, 5V, and 8V cross-sections
Flexible Construction for Adaptable Application.
The strong yet flexible Gates® Super HC™ belts are a high-performance power transmission solution suitable for a wide range of industrial applications. You'll find Super HC™ belts working hard in construction, mining, off-highway, agriculture, aggregates, HVAC, general processing facilities, and much more. And because we offer our V-belts in a broad range of sizes, you'll always find a perfect fit for your unique application demands
Resources
PRODUCT RESOURCES
Software and Mobile Apps
Calculators