Poly Chain® Carbon™ Volt™ Belts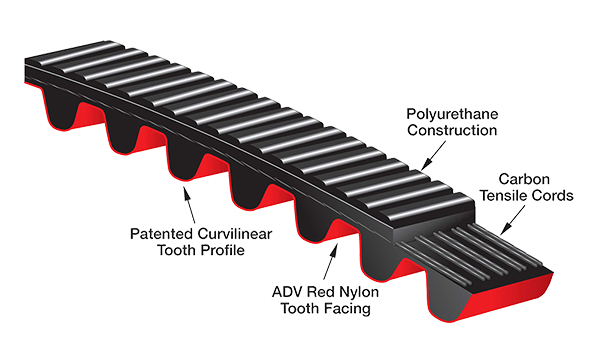 Poly Chain® Carbon™ Volt™ Belts
Anti-static power transmission belts are a necessity in volatile environments, like those found in the energy, agriculture, and petrochemical industries. Gates® Poly Chain® Carbon™ Volt™ Belts provide an industry-leading solution that meets SO 9563 standard for static conductivity over the full lifetime of the product.
Supports a maintenance-free, energy saving operation
High power capacity and performance
Fast drive conversion payback
Maintains ISO 9563 standard for static conductivity throughout the product life span
Patented design and construction
Moisture, chemical, pollutant, and abrasion resistant
Supports quiet drive operation
Provides fast ROI on drive conversions
Features
Better Performance by Design.
Gates® Poly Chain® Carbon™ Volt™ Belts take everything we've put into our Poly Chain belts and makes them better. Carbon tensile cords and polyurethane construction superior provide strength and fatigue resistance, limiting stretch, and providing maximum flexibility. The patented curvilinear tooth profile provides exceptional power transmission capabilities. While the patented anti static jacket makes the belt ideal for volatile environments and is ATEX directive compliant.
Static & Hassle Free
Gates® dedication to R&D and material science are encompassed by our Poly Chain® Carbon™ Volt™ Belts. Engineered to transfer static away from the drive surface, Poly Chain® Carbon™ Volt™ Belts reduce risk and enhance the safety of your operations. Their lightweight, superior strength, and maintenance free design boost energy savings, lengthen belt life, and virtually eliminate maintenance costs. This makes Poly Chain® Carbon™ Volt™ Belts a powerful, versatile solution for your most demanding power transmission applications.
Resources
PRODUCT RESOURCES
Manuals, Guides & Tech Tips
Calculators